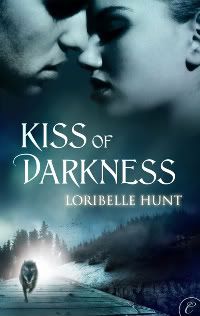 A good creepy mystery and dangerous villain. Or even two. What could be better? My love of these stories started with Poe and Lovecraft, progressed to King and Straub, and finally, I discovered Barbara Michaels. Danger, the supernatural,
and
a romance? This was definitely better!
I'm sure it comes as no surprise that when I started writing years later, suspense and the paranormal worked their way into my plots. And the more I wrote (and read) the more fascinated I became with contradictions in heroes/heroines and villains. No one is all good or all bad. I started to wonder just how bad could I make the good guys without making them irredeemably evil?
This was the idea behind my demon hybrid series, which starts with Kiss of Darkness. With real demons trying to invade the world and the two species who are supposed to defend humanity at war with each other, how far would you go to protect it? One group of humans makes the ultimate sacrifice by binding their souls with the souls of demons, a secret ritual given to them during the dark days of the Crusades. They're part good, part evil, and all deliciously bad. ;)
This bond comes with a steep price, however. Ultimately, they all will give into the evil joined with their souls and become the very thing they fight. Unless they find someone to save them. One person who loves them enough to join into a blood bond that will stabilize the hybrid's soul. In the Order's world, the end is simple: death, rogue, or mate.
It makes for great angst to write. I do love a good tortured hero/heroine! What about y'all? How dangerous do you like your good guys? Who are some of your favorites? I'll choose one commenter for a free ebook of my new Carina Press release,
Kiss of Darkness
.
Loribelle is a former Army MP who traded in her combat boots for motherhood, flip flops, and all the Diet Coke she can drink. (She almost misses the combat boots.) She's the author of more than 20 books none of which her children are allowed to read. Ever. You can visit
her website
, follow her
on Twitter
, or join her on
Facebook

.